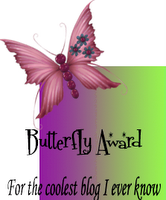 Thank you Cely of New Horizon and Yub of Filipina blog for bestowing this award to me. I am truly honored to receive this blog. You always make me special =)
Here is what you have to do:


Put the logo on your blog.


Add a link to the person who awarded you.


Nominate 10 other blogs.


Add links to those blogs on yours


Leave a message for your nominees on their blogs.
And my nominees are:
Tales of a Pinay Single Mother
Momma Wannabe
Mommy's Little Corner
Barefooted Me
Terella
My Piece of Paradise
Chubz Space
Kuting's Place
The Fashop
In My Home