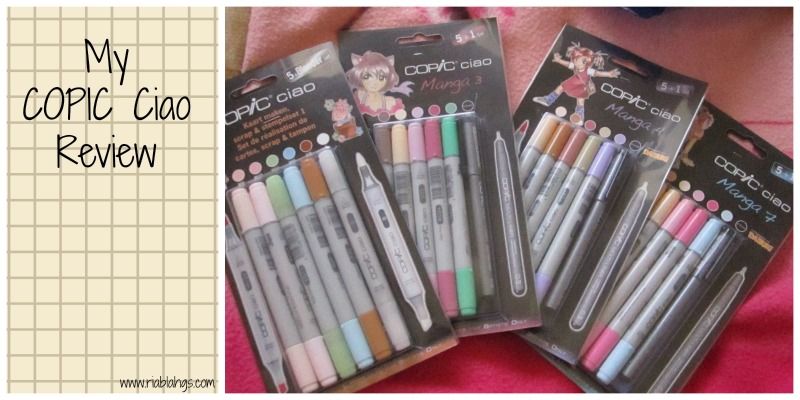 I have been dreaming of owning Copic Markers for some time now. I even bought 60 pieces of Touch markers just to get on with stamp coloring but the cheaper brand does not hold up in terms of quality and color blendability as Copic does.
I am very happy that I managed to buy 4 packs of Copic Ciao Markers for Manga and each pack costs AED 89 (approx. US$ 25 per pack) and contains 5 colors with either a blender or 1 multiliner. I and my daughter went to Kinokuniya which happens to be our favorite place to buy manga books and craft magazines and it is also a distributor of Copic markers in the Middle East so I went ahead and bought 4 packs.
Here are my feedback on Copic Ciao:
Prize: AED 89 (US$25 approximately) per set of 5 colors with either a blender or multiliner as the 6th pen. So, in average, a pen would have cost around US$4.10 each if I were to buy them separately. It is a bit pricey compared to the Touch (Shinhan) Markers. However, there's a reason why it's more expensive than most markers – it's refillable and the nibs are replaceable.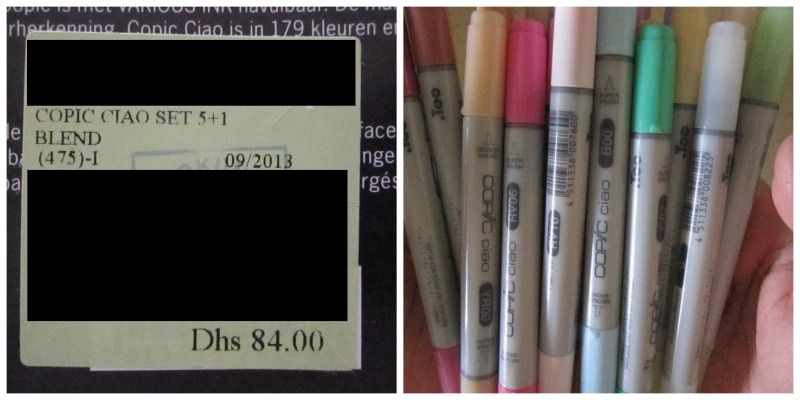 Colors: The ones I bought are for the manga series and they come in limited 5 colors so I have to mix and match with the other sets. However, there are other Copic Ciao marker sets that comes in 12, 24, 36 and 72 piece sets.
Others:
You can blend the colors using a blender pen which came as a freebie in one the sets I have bought. It made the 2 joined colors looked like they were one color with a different degree of shade.
It is alcohol based so there is a tendency for the color to bleed at the back of your paper. So far, the stamp images I have colored did not bleed on the image itself but the back looks dirty. It doesn't matter since I will be gluing the back end anyway to my handmade cards.
The picture below shows the stamped image I colored with copic compared to the one colored with Touch (by Shinhan). The blendability of Touch is rather limited as you can see on the light blue highlight on the floor as opposed to snow on the tree branch. I was trying to achieve that kind of color blending but I didn't get it to look like that using Touch. Copic's colors are vibrant and yet they blend so well with other Copic colors.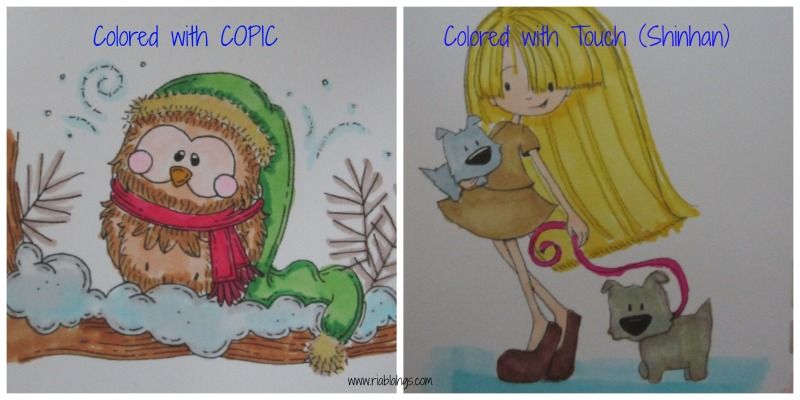 It has dual tip. The other side is a broader nib for thicker strokes and the other side has a pointy one for the finer details.
I have mentioned earlier that they are refillable and the nibs are replaceable making the pen a permanent one for usage.
My verdict is a big yes! I do recommend this to crafters, graphic artists, illustrators, designers, architects and anyone who is into coloring, sketching and drawing as these markers are top of the line. This not a cheap product and it is used by professionals in their field so I am not surprised why they are priced as such.
Disclaimer:
I was not compensated for this review nor have been contacted by any party to conduct a review. I have personally purchased the product and this review is 100% my own feedback.
Please follow and like us: