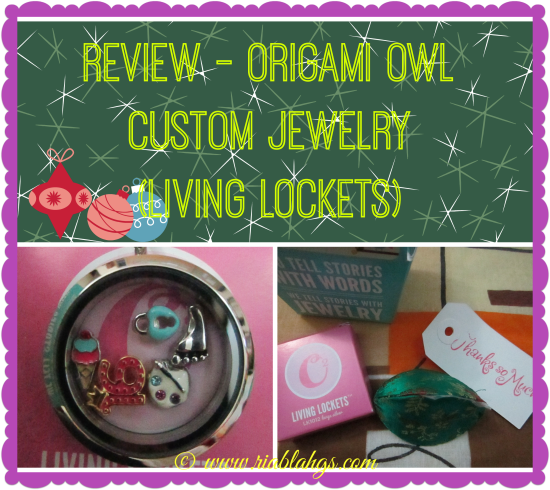 I am really blessed and I am very thankful for that because opportunity arises from every corner. I am glad I saw a post from a friend from high school about her jewelry business in FB. The moment I saw the jewelry, it was love at first sight! I contacted her and offered to review her custom jewelry and I am so ecstatic that she allowed me. Suffice to say, I have received a free custom Living Locket jewelry from Origami Owl courtesy of my friend.
I love the Origami owl Living Locket custom jewelry for the very reason that it is unique and the charms are amazingly cute! I shall let my daughter share her review about the product because it is really intended for her 16th birthday – a locket containing precious charms that mean something for her.
— oOo —
To be honest, the first time I heard about the locket was through my mom. She was casually asking me about it while we browsed her friend's Origami Owl website and I thought "Wow. These are really pretty, I'd honestly love one." And when the opportunity arose that she would get one for free as long as she reviewed it, she allowed me to pick the little trinkets, as an early 16th birthday gift. I was ecstatic about getting to choose from all the cute little charms. There were so many of them (all very, very cute and charming. That's why they are called charms!) but my mom limited me to only 5 of them so I had to down size the large collection I've made in the shopping cart.
Picking was easy but such a challenge because all the charms are very cute, the chains are lovely and oh, those lockets are gorgeous! There are a wide selection of chains, lockets and charms. I wanted all of them! Sadly, even I knew that they wouldn't fit in the locket. So, I guess I should tell my mom that she has to order more lockets! hahaha…
I waited for the arrival of the locket with bated breath. I was so ecstatic when the day finally came that I was looking at a very cute Chinese take-out box that contains the custom jewelry. I felt like getting A+ in my Filipino exam and that was a good feeling!
Wow! Holding the locket in my hand with the small charms I have chosen is so magical. I mean, the locket is so pretty and adorable with all the little charms happily bouncing and clanging about. But wearing it was different from looking at it from a screen. It felt nice and light, despite its appearance.
I love shaking the tiny charms inside. Sometimes, I'd even open it just to play with the little charms or to wedge them off each other and start shaking it again. A rinse, lather, repeat process I've been doing.
Getting the locket was just a bundle of joy. I can't stress that enough. I wouldn't even mind showing it off to others, just to let them know that there are pretty things out there even if they are small in size. And my mom always tell me, "beautiful things come in small packages." Need I say more?
— oOo —
People who are close to me know for a fact that I am not a jewelry person but this Origami Owl Living Locket is a different kind of jewelry I will be happy to wear anywhere I go. Just like how my daughter sees it, I find it very appealing. It is a unique jewelry to wear with all those tiny charms that you will choose and put inside because of their significance to you or simply because they are uber cute. I will definitely not mind wearing this locket close to my heart.
For more information and if you want to place your orders, please visit my friend Mina's Origami Owl site: Origami Owl
Please follow and like us: