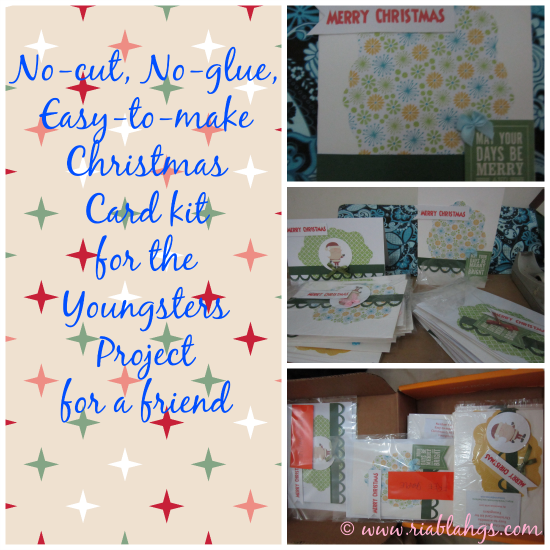 I have been very busy with a project for a friend lately so some of the usual stuff I do has to be pushed aside. Not only that, I was under the weather too for few days so my movement is a bit restrained and I need full rest to recover.
A commitment is a commitment for me so despite of the fever and achy joints, I managed to complete the 30 pieces Christmas Card kids for the young ones. This project is commissioned by a friend from work who is into arts and crafts as well. I do appreciate the fact that she contacted me to prepare easy to make cards that can be assembled by the youngsters attending her Christmas Party this December.
I am honored that she chose me to make these cards. So, I made 2 samples and they are very simple to follow. I prepared the kit which consists of the following:
1 patterned paper matting
1 Christmas image/graphic
1 small ribbon embellishment
1 paper lace cutout
1 Christmas sentiment
1 A5 cardstock
The items (except for the base card) have all been pre-cut and I already applied double adhesive tapes for easy sticking. So, there's no need for those sharp scissors and glue sticks. Everything will be assembled in a jiffy!
Please follow and like us: