I have a big fascination with anything French and of course, I love Paris! It is one of my favorite places to visit. The moment we set foot in Paris, my family and I knew that it was the perfect place to be.
So, I didn't let the opportunity pass when I got presented this beautiful Eiffel Tower wall decal with the word Paris. It is the perfect decal for our entry hallway because we have a part of the hallway that has nothing on it, just a bare cream colored wall that can benefit with a little sprucing!
This pretty wall decal came from Dezign with a Z company who specializes in vinyl wall arts decals based on the creative designs of their young designers who are from Europe and the USA. It has offices in the US, France and Russia. Aside from the many beautiful and creative artworks of the young and talented designers of Dezign with a Z, they also accept your own artwork which they will convert into pretty wall decals for you to install.
My vinyl wall art decal is the lovely Eiffel Tower (22″ x 22″) with the word Paris. I got it from their catalogue (worth $38) and this is just one of the many, pretty designs they carry in the site.
What I like:
A lot! First of all, I love the design! I love how light it is and the texture is smooth like a matte paint on a wall only this vinyl wall art decal is more posh looking and really up with the times!
The freebies! Yes, aside from the main wall decal I got for free, Dezign with a Z even added 2 large butterflies I can install later on and the package comes with a squeegee applicator to help flatten out the vinyl decal and remove unwanted bubbles when you install it on your wall.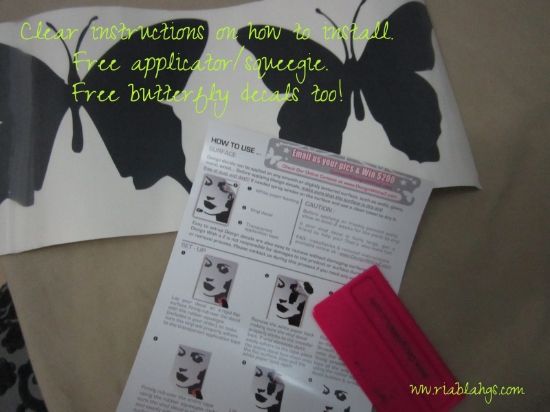 Easy to install. The package comes with an illustration of how to install the vinyl wall art which is easy to follow. However, this is a big wall decal so I had to ask my husband's help to set it up against the wall.
The price! It is pegged at $38 and I think that is reasonable considering the quality of the product and the design. I have seen other wall decal from other sites and they charge more than $38 for a smaller size and design.
The packaging is airtight so it won't get wet while in transit.
It was shipped free via FedEx by Dezign with a Z! Thank you for that!
The site offers shipping worldwide.
What I don't like:
Nothing! I love this vinyl wall art decal so much!
Suggested Retail Price: US$38 for this 22″ x 22″ wall decal
Packaging:
I received the product inside a thick cardboard canister. The vinyl wall art was also packed in an airtight plastic bag with the applicator, instruction and extra 2 butterflies.
Materials:
High quality vinyl and comes in various colors
My recommendation:
A big yes especially if you are considering to refurbish and redecorate at home or even in your office with a budget to follow. This is the fastest way to spice up that bare wall and add pizzazz to your home or office.
You may find more information about the company here:
Website
Twitter
Facebook
Pinterest
YouTube
I received one or more of the products mentioned above for free using Tomoson.com. Regardless, I only recommend products or services I use personally and believe will be good for my readers.
Please follow and like us: