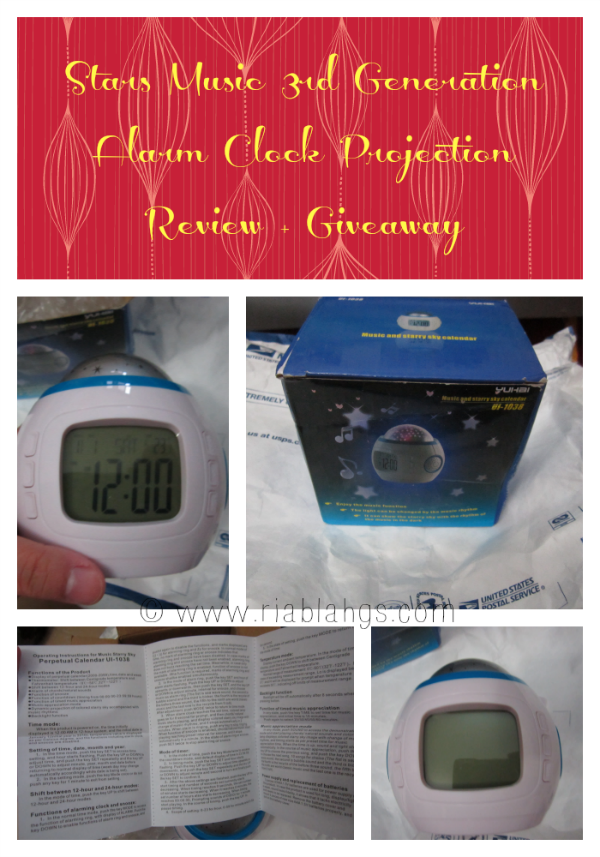 I like an alarm clock that will go off when I set it and highly dependable. For many years, I have depended on simple alarm clocks that are operated by batteries with a moving clock parts and the usual buzzing alarm sound. However, times have changed and there are more modern and hi-tech gadgets out there that not only functions as an alarm clock, it is also a projector lamp with nice melody sounds that you can choose. The Stars Music 3rd Generation Alarm Clock Projector is all that!
I like this Stars Music 3rd Generation Alarm Clock Projector from online shop at www.Tmart.com because of many reasons. Here are the nice features of this alarm clock which I like:
LED bulb lights with long life span
Colorful stars projection of light on the wall when the alarm goes off
Has 10 melodies to choose from which are all lovely melodious rhythm of swirling water or tapping waves in the ocean, nature and piano pieces.
Right loudness level. Not too loud that it can wake the whole neighborhood but loud enough to wake you on the first sound and flashing of the colorful lights. Please play the short video below on how this alarm is cute and at the same time – effective!
It has a large screen display for time, calendar (which is also a PERPETUAL calendar!) and temperature
The compact size (approx 3.5 x 3.5 x 3 inches) and lightweight
It is really an effective alarm clock for me and my family. I do not have to use my mobile phone as an alarm anymore nor my antiquated battery operated simple alarm clocks too. This is one is just perfect!
You can buy this product from Tmart and they are offering FREE shipping worldwide. You can find more information about this product in the site and not only that, you can find more products that you will find interesting in Tmart. But wait! You might just get lucky and win this amazing Stars Music 3rd Generation Alarm Clock Projector for free by joining my giveaway.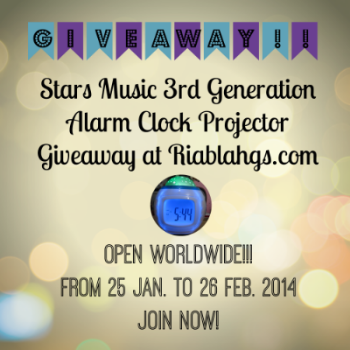 The giveaway is open worldwide and the entries are simple.
The Stars Music 3rd Generation Alarm Clock Projector will run from 25 January to 26 February, 2014 (ends at 12:00 a.m. Dubai time, +4 from UTC).
1 winner of Stars Music 3rd Generation Alarm Clock Projector.
Just enter below. All entry requirements in the rafflecopter form are mandatory except for the last 3 which are all worth 10 points each. You can earn those extra 10 points if you fulfill the tasks. Entries will be verified.
Please wait for the rafflecopter form to load.
You can share this giveaway form in your blog or social media too by posting this link:
http://www.rafflecopter.com/rafl/share-code/NzY5NjY0ZWZmMTE3OTQxMmM1ZTFiZmRlMmZkZmIxOjEy/
Thanks and good luck!
Please follow and like us: