Is snoring a major issue in your lack ability to have quality sleep? If you answered yes to that, you're actually not alone. Many people suffer from snoring due to many reasons and one of that is having health issues like Obstructive Sleep Apnea, deviated septum, drinking alcohol, and being overweight. However, if you have tried losing weight, seeing doctors for your snoring condition, and still find yourself suffering from chronic snoring, then perhaps, checking out Good Morning Snore Solution will be another way to help ease your snoring problems.
Good Morning Snore Solution offers bundles/kits that you can use to help your snoring woes. It comes with a mouth piece that is safe and easy to use. It is a universal fit so no need re-size or re-shape.  They also have cases to carry your mouthpiece so you are take it with you even on trips.
Improve your quality of sleep. And if you are a co-sleeper, improve theirs too with the One-size-fits-all – Good Morning Snore Solution.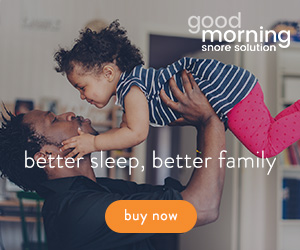 Please follow and like us: