** This post contains affiliate links. I will get a small compensation when you click and make a purchase. Thanks.**
Are you looking for ways to spice up your holiday greeting cards and wrappers? Well, if you are like me and the many who loves to give gifts this Christmas and loves to use personalized cards and wrappers then head on to Minted!
True to Minted's mission, ""Our purpose in life is to uncover exceptional design from all over the world and bring this to savvy consumers who won't accept anything else," I certainly don't expect anything less with the new launching of Minted's Holiday Card in few days.
Along with the launching, they are offering 15% discount so that you can stretch your budget much longer.
Why Minted?
They have fresh designs.
You can have them personalized and some  templates have capacity to include photos.
They are fun and whimsical.
There are classic designs.
The paper quality if superb.
It comes with an envelope for each card.
The print outcome is high quality and fine.
There are many designs to choose from.
They delivery worldwide.
They have a refer-a-friend program where you will earn $25 once your referred family or friend makes their first purchase delivered.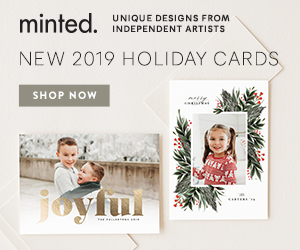 And they have an ongoing deal right now until October 15! Get a 15% off when you purchase any holiday cards until 15 October. Don't delay!
Early Bird Event: 15% off holiday cards with code EARLYBIRD18 at Minted
And with approaching holiday season, it's very timing and apt to take advantage of the 15% discount offered by Minted.com.
I am checking out a lot of designs right now that I am eager to personalized. I like to use our own personalized Christmas wrappers this year. I remember seeing the happy faces of our gifts' recipients when they saw the customized cards and the wrappers. Some of our family and friends even saved the cards and wrappers. They couldn't find it in their hearts to throw them! That's how pretty the designs of Minted. Everything speaks of class, fun, whimsy, color, enjoyment, and many more!
Below are just few of the Minted paper products I have ordered in the past. If you already have an account with Minted, it is also possible to reorder them again if you like.
Here are samples of some of our personalized Christmas wrapper and holiday card:
Personalized Christmas wrapper
This one below is my favorite wrapper. It's so cute and whimsical. I love whimsical stuff so it's not a surprise why folks of all ages loved this one so much. I remember my niece telling me that she still had the wrapper tucked in her special box of remembrance.
Photo Holiday Card
Who/What is Minted?
Minted is an online site that offers designs from independent, fresh, and highly creative artists. You can choose from the many eclectic, fun, traditional, whimsical, and even classic designs of cards, stationery, tags, stickers, planners, journals, wrappers,  labels, and many more.  You can choose your paper product and customize to make it more personal.
Please follow and like us: