** This post contains affiliate links. I will get a small compensation when you make a purchase. Thank you. **
I am solid Minted fan through and through! Ever since I was introduced to Minted, I have always made it a point to have my cards and wrappers customized with our signature funny photos.
I have been using Minted paper products for my journal, cards, and wrappers for almost 4 years and I am very happy with my purchases because they are really cute, and whimsical; just like how I want my printed stuff to be.
This year, I ordered 3 new designs for our Christmas wrappers. As always, I am very pleased with the products and the designs. I don't question the quality because Minted's products are of high-quality materials and designed by very creative designers out there who may not be as famous as other artists but their designs truly shine!
The designs:
Winter Pines Wrapping Paper by Jennifer Wick- this can be personalized but you can't upload photos
Holidoodle Wrapping Paper by Laura Hankins – can be personalized and can upload photos
Happy Lettering Wrapping Paper by Jessie Steury – can be personalized and can upload photos
Aren't they divine?!? I may re-order them in different color next year! Oh, I almost forgot, some designs have various color options so you can choose the background or text colors or even the graphics colors as you prefer.
If you want to order the same designs, you can check out the Minted Holiday Cards at Minted.com.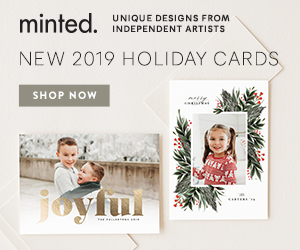 Please follow and like us: